Accused of Drug Trafficking in Las Vegas?
Understanding Drug Trafficking Laws in Nevada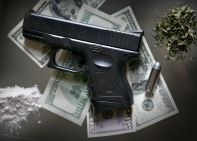 Drug trafficking is a serious drug crime that occurs when an individual knowingly transports large quantities of illegal drugs like marijuana, cocaine or heroin with the intent to sell or distribute. Since drug trafficking deals with larger quantities of drugs, the penalties can be substantially more severe than other charges like possession. The penalties associated with drug trafficking depend specifically on the schedule the drug is categorized in as well as the quantity of the drug.
In any type/quantity, convicted defendants can expect to face:
Anywhere from 5 years to life in prison
Fines ranging into the tens of millions for the most significant cases
Due to the celebrated nature of drug convictions in law enforcement, one sad side effect is the fact that investigations and arrests can sometimes veer off of lawful procedure and mistakes can sometimes be made. These mistakes can be noteworthy enough, in many cases, to make good evidence inadmissible, and they have even been known to result in dropped charges. Drug trafficking can be charged as a federal drug crime, and it is necessary to hire a Las Vegas drug crimes lawyer with experience in large-quantity cases who knows how to build the right case.
Call Attorney Brown - Experienced Former Prosecutor
The Brown Law Offices understands the severity of your charges and we are dedicated to the task of building a case that is custom-tailored to the details of your arrest. Although a drug trafficking charge may seem like the end of the line, rest assured, there are a number of different tactics that can be very useful in convincing a jury otherwise.
Facing trafficking charges and need a strong defense?
Contact our passionate high-quality Las Vegas attorneys at the Brown Law Offices.
Contact Us