Las Vegas Ecstasy Defense Lawyer
Have you been arrested for ecstasy charges?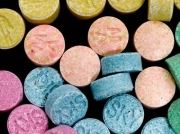 MDMA, more commonly known as "ecstasy," is a drug that is often associated with raves and dance parties. It is a drug that is said to give the user a sense of euphoria. It may also be known as "X" or "E" in slang terms. Ecstasy is classified as a Schedule I drug, which means that charges pertaining to it will receive the harshest levels of prosecution and punishment. Schedule I drugs are believed to have no medical value, and have a high likelihood of being abused.
Possession of Schedule I drugs are severely punished under Nevada law. If you have been charged with possession of ecstasy, contact a Las Vegas drug crime attorney today to get the legal representation you will need to fight back. Our firm is committed to pursuing any possible advantage for our clients in charges related to ecstasy. We make ourselves available for all of your legal needs.
What are the penalties that you could face?
The consequences vary depending how much ecstasy is involved and the particular circumstances surrounding the time of your arrest.
Possession charges could include:
1-4 years in prison
Up to $20,000 in fines
Sales penalties could include:
2-10 years in prison
Up to $20,000 in fines
Trafficking charges could result in:
25 years in prison
Up to $500,000 in fines
The Brown Law Offices has years of experience dealing with possession cases in Las Vegas, and in many cases we are able to negotiate reduced charges or a reduced sentence. In other cases, we may be able to have charges dropped altogether.
Brown Law Offices Fights For You
Drugs are a predominant legal issue in Las Vegas. Our firm has had years of experience of success in these cases. We understand the complexities of drug possession cases, and the various circumstances that could affect the final outcome in negotiations and at trial. Many people who are charged with charges related to ecstasy may have a viable defense. We do a painstaking analysis of every aspect of your case to identify the best option in defending against the charge. It is our job to fight for you and your future, and we take on this responsibility fully determined to seek any possible advantage for you.