Las Vegas Field Sobriety Tests Lawyer
Implied Consent Laws in Nevada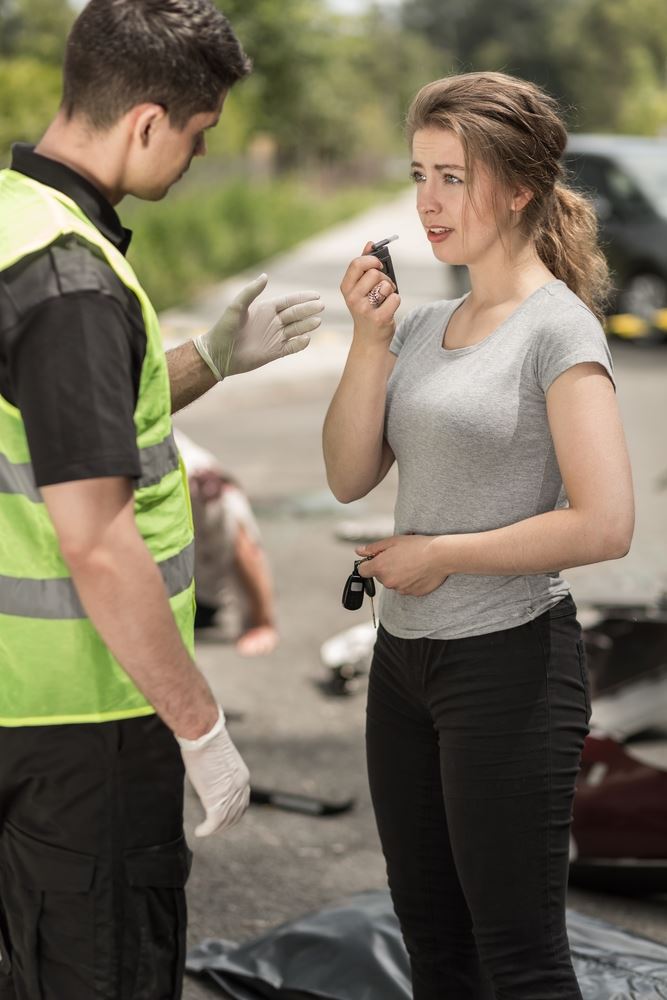 Under Nevada's implied consent law, NRS 484C.150, any person who drives, or is "in actual physical control" of a vehicle on a public roadway is deemed to have given their consent to a preliminary breath test for the purpose of determining the alcohol concentration in their breath. A preliminary breath test is administered to the individual who has been reasonably suspected of being intoxicated at the scene under the direction of the officer who stopped the vehicle.
If the preliminary test establishes that the suspect was driving under the influence or controlling the vehicle while under the influence, the driver's license will be confiscated, the driver will be arrested, and taken down to the station for a chemical test of their blood, breath, or urine.
Refusing to Submit to a Blood or Breathalyzer Test
If a driver refuses to submit to the test, the police officer will confiscate the suspect's driver's license or permit, and take them to a convenient place to administer a chemical test under NRS 484C.160.
If you refuse to submit to any chemical test, the officer can use reasonable force to make sure that you do. For suspects who are taking anticoagulants for a heart condition, or who have hemophilia, they do not have to take a blood test.
If test results reveal that you had a blood alcohol concentration (BAC) of .08% or greater, the state will automatically revoke your license for 90 days. While there is no specific penalty for refusing to take a test because an officer can force you, any such refusal will be used against you in court.
The Field Sobriety Test Process
If you have been pulled over by a police officer who has probable cause to believe that you are driving under the influence, then he may administer some field sobriety tests. They are meant to assess whether you are intoxicated or not. There is a great deal of room for human error in these tests and the officer may fail to administer the test properly. You may not be able to understand the instructions, or may not be coordinated.
Factors such as age, weight, medical conditions, or even feeling nervous can severely skew any of these results. In any such instance, you could be mistakenly charged with a DUI. According to the National Highway Traffic Safety Administration (NHTSA), these field sobriety tests can only be 65-77% reliable at best. In fact, the NHTSA approximates that as much as 25% of those charged with a DUI because of field sobriety tests were not actually under the influence.
These tests include:
The walk and turn test - The officer will be testing your balance and ability to follow instructions. Failing at 2 or more aspects of this test make it appear that you have a blood alcohol concentration (BAC) higher than 0.08.
The horizontal gaze nystagmus test (HGN) - Nystagmus refers to uncontrollable eye-jerking, which the officer will look out for as you are asked to follow an object with your eyes. Nystagmus can be a symptom of a BAC higher than 0.08.
The one-leg stand test - You have to stand on one leg while further performing mental tests.
Experienced Nevada Sobriety Test Legal Counsel
Whatever DUI charges you face, Las Vegas DUI attorney Phil Brown is up to the task of poking holes in the prosecution's case and getting your charges reduced or dismissed. One of the things he brings to the table is over a decade of experience as a prosecutor. This has given him invaluable insight into how the prosecution operates, and this equips him with the thorough knowledge of how to counter their charges and build a solid defense.
Your reputation and freedom could be at stake. You need to know that your case is in capable hands. At The Brown Law Offices, you can find the trusted and aggressive DUI defense lawyer you need. You can contact a Las Vegas DUI attorney from our firm who has the experience you need, so do not delay.
Contact us today to schedule a free initial consultation!